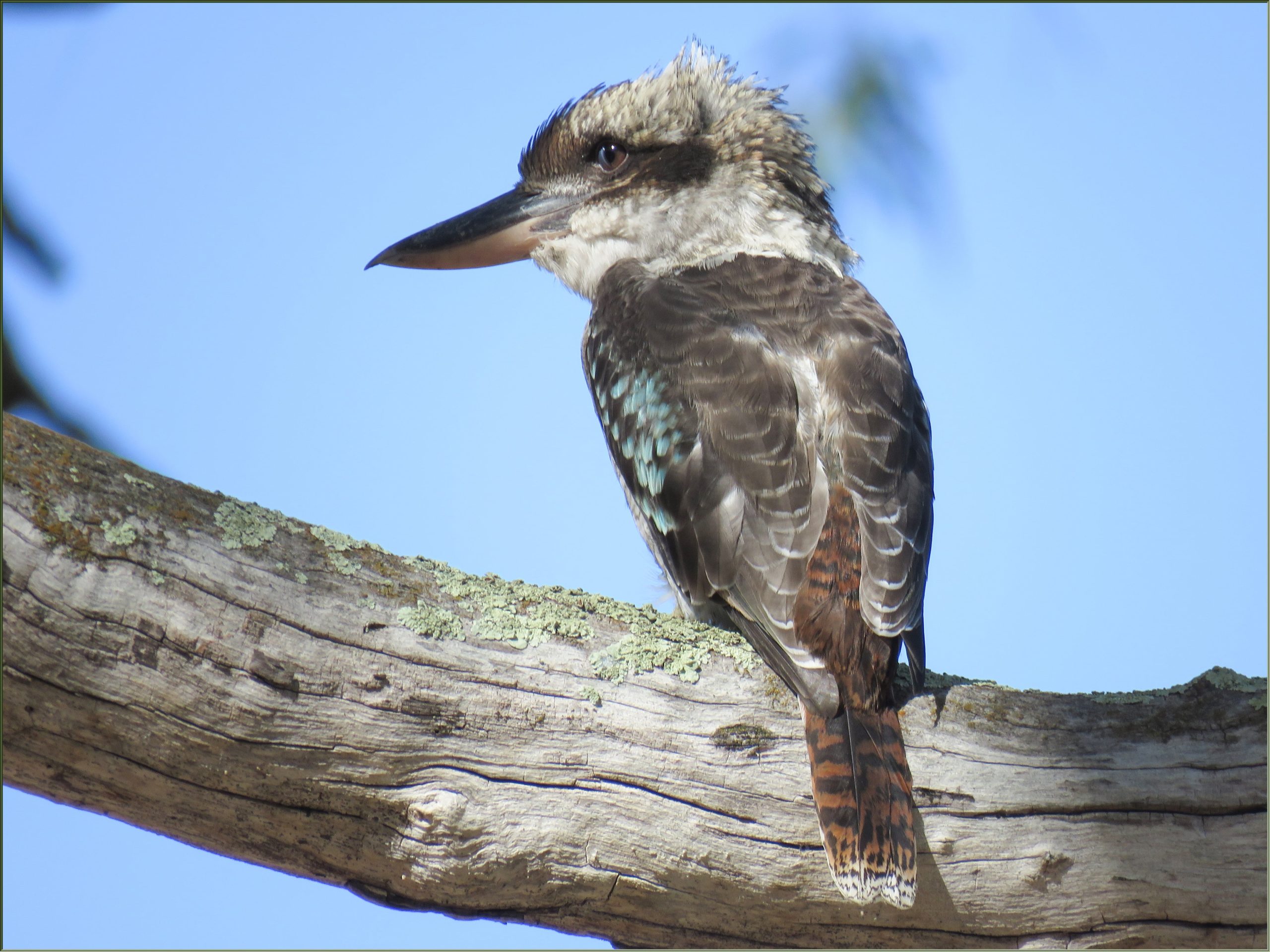 At the end of the driveway, turn right go over the bridge and you are in Barmah National Park which has the largest River Reg Gum forest in the world.
There are lots of walking tracks and hundreds of different species of birds for keen birdwatchers.
Kangaroos are plentiful and are especially active early in the morning and at dusk.
You will often seen groups of emus strolling around.  The young birds are looked after by the male bird.
Barmah is also home to the Barmah Brumbies, a controversial subject, but the park has been their home for over 150 years when it was open land and known as the Barmah Common but farmers and graziers. The farmers would put their cattle out on the common to graze and muster them in autumn for market. You can still see the remains of the old muster yards which are heritage listed.
 The Brumbies are quite shy and whilst you may see evidence of them by their droppings, you may only get a fleeting glimpse before they disappear.  There are currently plans to re-home about 90 of the Brumbies in a 300 acres sanctuary but Parks Victoria plan to exterminate the remainder in the near future.  Such a sad end to a rich history!
You will also see the Dharnya Centre which was a display of Indigenous Culture and artefacts.  It is presently closed as the building needs major renovation and there are plans to rebuild and re-open in the near future.
 It is permissible to ride dirt bikes in the Park but all bikes must be registered, riders must be licenced and keep to the designated tracks. At various times of the year the park floods and may be closed by Parks Victoria at short notice. It is advisable to check their website for information before embarking on your visit. Their website is https://www.parks.vic.gov.au/places-to-see/parks/barmah-national-park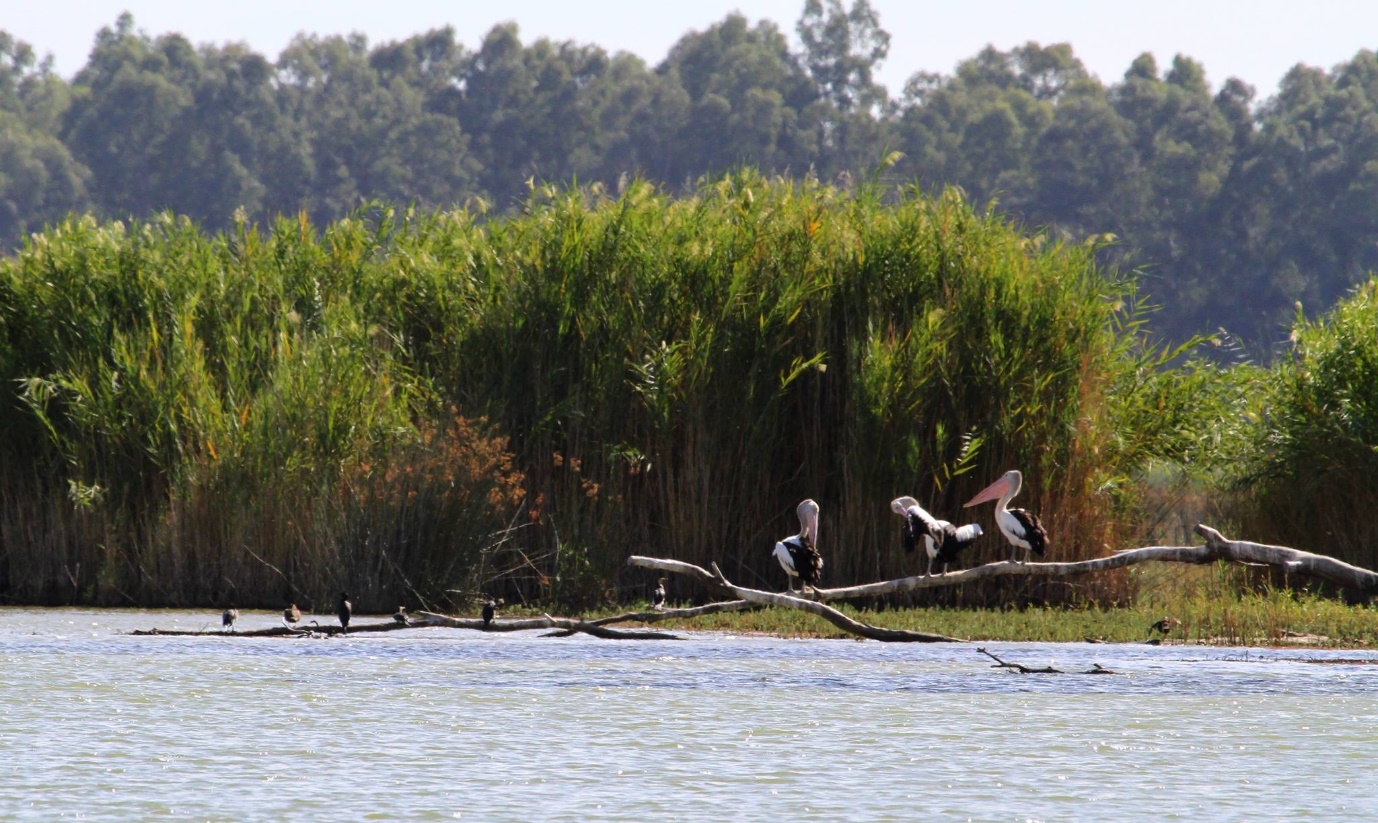 You too can experience the world-acclaimed Barmah wetlands as those who chartered the waters before river regulation did with a Kingfisher cruise.
Whilst taking a cruise along the "Barmah Choke" on the Murray River you will hear a fascinating commentary from your certified Eco guide about the hundreds of species of waterbird, animal and native fish that have made the Barmah Wetlands and Forest their home, and about the myths and legends of this very special area.
You will understand why they have been named "Wetlands of International Importance" as you slip quietly across the water in dappled shade of the world's largest single stand of River Redgum.
The area is a wildlife haven for 236 bird species, 50 mammals and more than 500 plant species.
The business is the only ecological experience in the Barmah/Murray Valley National Parks to gain accreditation under the Eco-tourism Australia Accreditation Program and was recently admitted to the Eco-tourism Australia Hall of Fame for holding accreditation for 20 years.
Kingfisher Cruises operates Monday, Wednesday, Thursday, Saturday and Sunday offering a two hour public cruise.
Further information can be found at www.kingfishercruises.com.au
Bookings are essential and can be made by telephoning 03 5855 2855 or by email to info@kingfishercruises.com.au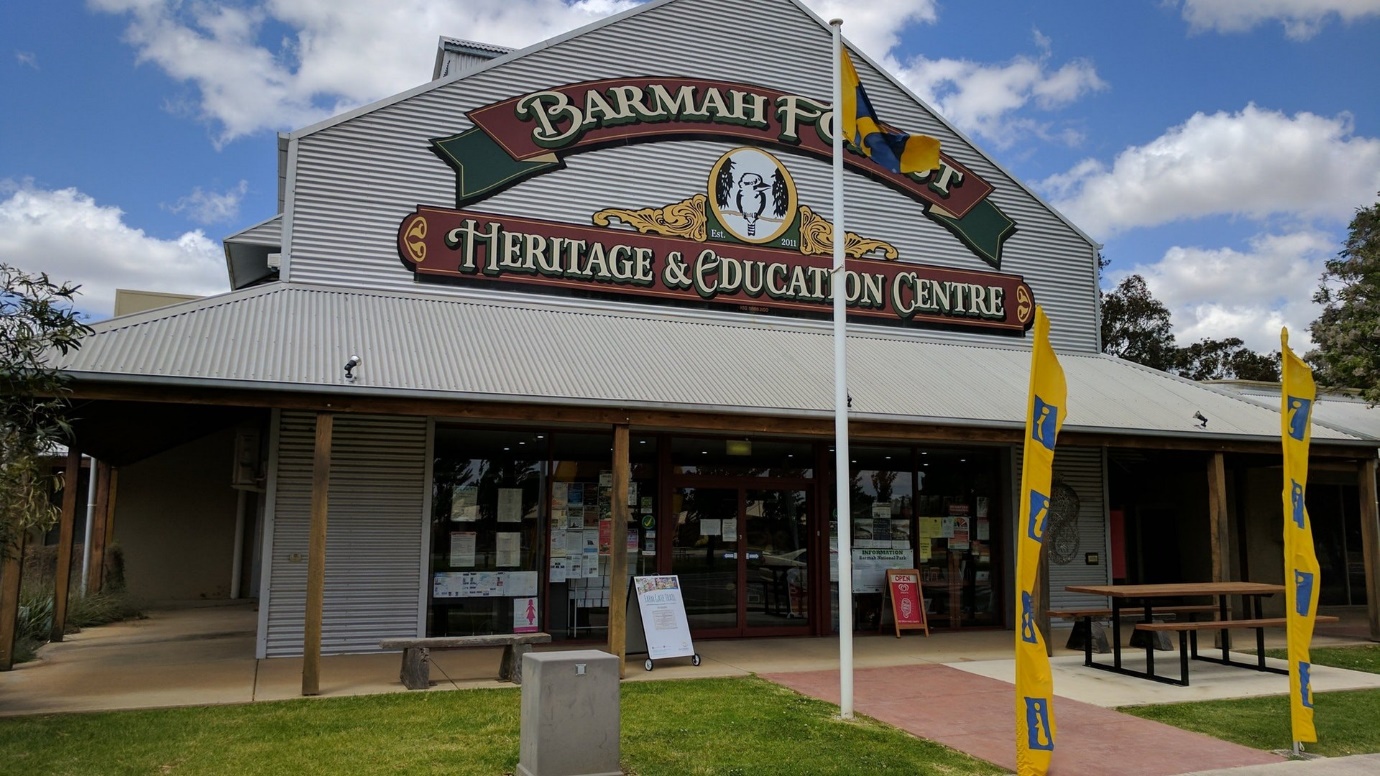 Barmah Forest Heritage and Education Center
The Barmah Forest Heritage & Education Centre in Nathalia is a delightful place to explore the rich history of the Barmah National Park and surrounding region. 
The centre has many interesting displays that celebrate the region including displays of local indigenous history, timber industry, wood cutters, riverboats, leach and feather collectors, cattlemen & more. The art also features art, culture & history exhibitions throughout the year that appeal to locals and visitors alike.
Please feel free to peruse a small part of what this centre offers by looking at some of our past and present exhibitions.
Port Of Echuca Discovery Center
The Port of Echuca is a living monument to the 1870's when it was Australia's largest inland port and indeed the third largest port in Australia outside Sydney and Melbourne. Authentic steam driven paddlesteamers depart daily from the Echuca Wharf for further information website is https://www.portofechuca.org.au/
Open Now:9:00 am – 5:00 pm
Address:74 Murray Esplanade, Echuca, Victoria
Murray River Cruises, Echuca
Murray River Cruises Echuca. A trip to Echuca Moama would not be complete without experiencing the tradition of river cruising. 
Choose a one-hour family cruise aboard the 107 year old PS Canberra or relax with a Lunch or Dinner cruise aboard PS Emmylou.
For over 25 years we have been delighting our guests and look forward to welcoming you aboard soon!
Moama Market
Moama Market is one of the best markets in Australia. Various items throughout include craft, homemade goods, socks underwear, tools, farm fresh picked produce. Clothing, Bric-a-Brac. A wide variety to choose from. You won't be disappointed.
Market Dates:
27 December
3, 17 & 24 January 2021
7 & 21 February 2021
7 & 21 March 2021
4 & 18 April 2021
Located just over the Echuca Bridge at Moama at Kerrabee Sound Shell Gardens.